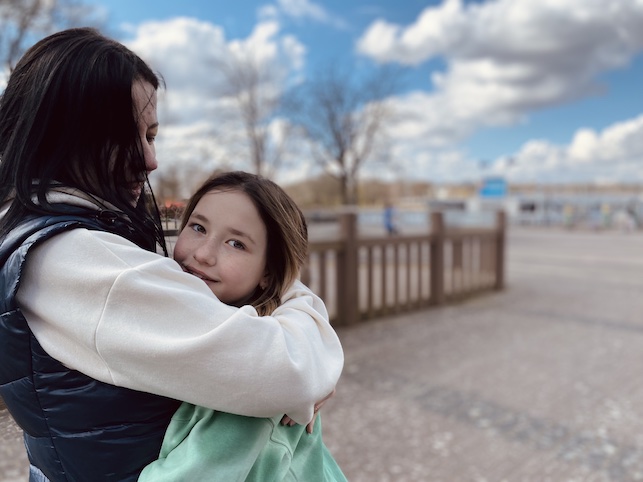 Oksana B. (37) with her daughter Yana (11)
Suddenly, there was this very strong attack to our house located at Pavlovskaya Square in the city center of Kharkiv – immediately I had to make the decision to leave. In the morning Yana and I grabbed our small backpacks while a friend – who was giving us a ride to the train station – was eagerly waiting in the car. We only had 15 minutes, it was our chance to get out… We couldn't take what we want – we took what we needed: Some clothing, our mobile phones and medicine for a few days.
In a hurry, I forgot my glasses in Ukraine!
I met my husband at work. He was my boss, I was his assistant in the laboratory and when he went on international business trips, I represented him. We were together for 14 years and separated one year ago. He is a very interesting man, I really appreciate his intellect. At the moment, our Labrador is with him in Ukraine and Yana phones him twice a day.
Oksana: At the age of six, Yana got her ears pierced. I didn't support this, but she and her Papa wanted to!
Yana: I actually I want to pierce my nose, as well- yes yes yes!
Oksana: No, no, no… and the freckles aren't from me, either. Maybe from your Papa…
Yana: No, Mama – Papa has no freckles!
Oksana: Well, maybe they come from my grandmother…?
Yana: No Mama, it's simply me!
We never supposed Russia would attack Ukraine. For us, the war was a big shock, because have family and friends in Russia. Our life was very good, we had money, cars, apartments, jobs, we had everything… I actually never thought about leaving Ukraine. When Yana got taught German in first class we wondered: "What for? We are not planning on going to Germany, we want to stay in our hometown!" Now I know.
Back home I always used to help others and now I am in the position to be helped and I do not feel comfortable in this role.
---
Interview & Photo © Sandy Bossier-Steuerwald
Please follow and like us: