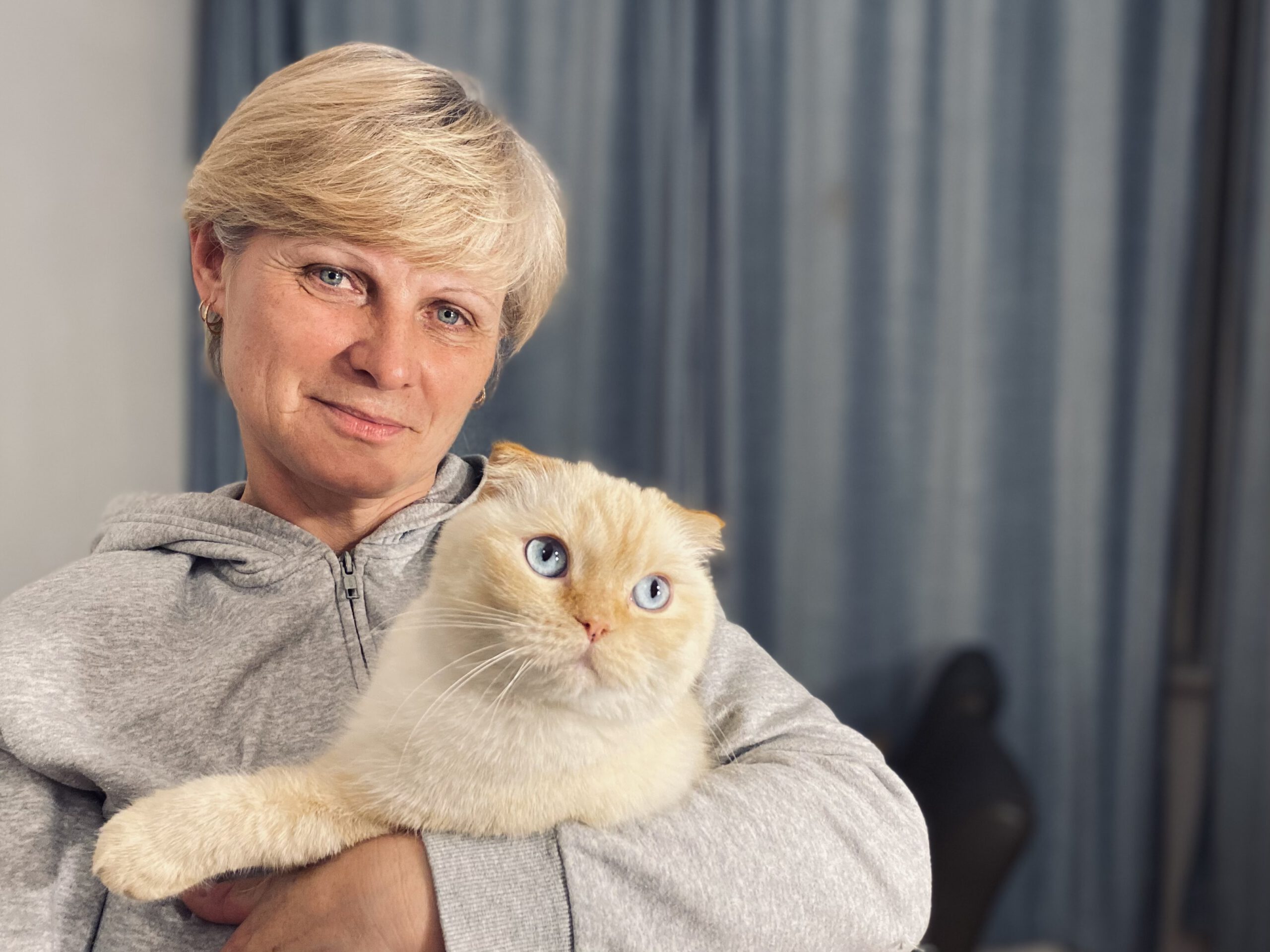 "I looked out of the car window: sometimes I saw thousands fleeing and Russian planes in the sky, then again lakes, snow and sunlight."

Svitlana K. (53) with Sunny (1,5)
Everyone is afraid of something at some point in life, but I have never been so afraid. Once a bomb fell nearby and everything shook. Cold fear sweat ran down my body like a torrent, starting at my temples. I thought we were going to die. We slept in the basement for nine nights, everything in Okhtyrka was shelled: Department stores, administrative buildings, schools and the electricity plant were broken. At minus twelve degrees without water and heating, you have no alternative but to leave at some point.
Tell me, what can I do as a woman with a child when ten Russians come in the door?!
We drove a thousand kilometers westward for six days. In our friend's car rode his mom, his grandpa, my granddaughter Mishel and me – plus our cat Sunny. I sat in that back seat for days, upright and tense. Mishel sat next to me the whole ride, at times lying on top of me asleep. I held the cat tightly in my lap and guarded them both like a soldier. Thousands of people were on the crowded roads, once it took us ten hours to cover 70 kilometers. I often thought I wouldn't make it. Anything could have happened and fear always came from above. Twice I saw Russian planes in the sky and I was sure, now they will destroy us. But Mishel said strong and brave to me:
"Бабуся ("babushka" Ukrainian grandma), don't be afraid – we'll get through!"
Due to the curfew, we started looking for places to sleep in the early evening. We stayed five nights in small Ukrainian villages, it's safer than in big cities. We slept for free, privately and once in a vacant school for disabled children. We always had something to eat and drink, warmth and shower. People brought us everything we needed from the bottom of their hearts. We crossed the border into Romania on foot, because Ukrainian men under 60 are not allowed to leave the country in case of war. On the other side, my daughter was waiting to pick us up. She drove 1500 kilometers from Berlin through the Carpathians, through Poland, Hungary, Slovakia to Romania, and back again. It was really hard, but we made it. We reached Berlin on March 9, 2022. I slept through two days. Here is silence everywhere. Here, everything is good.
For me, the most important thing was to bring my granddaughter to Germany.
After the collapse of the Soviet Union three factories in our home town of Okhtyrka were closed. The Russian sales market fell away and with it several jobs. I turned to caring for the elderly and took care of our granddaughter Mishel. Two years ago my husband had to go to Germany with our daughter to earn money for the family. Because of the war in Ukraine, my family is now united here, but my heart is half there, also because my husband's parents stayed. We talk on the phone every day, we cry on the phone every day. Tonight they are still alive, even though three bombs went down nearby. I'm still going crazy with worry. Grandpa is 84, grandma is 77 and they say:
"Where shall we go? Here is our house, our home. Here is our earth, here we die."
---
Interview & Photo © Sandy Bossier-Steuerwald
Please follow and like us: