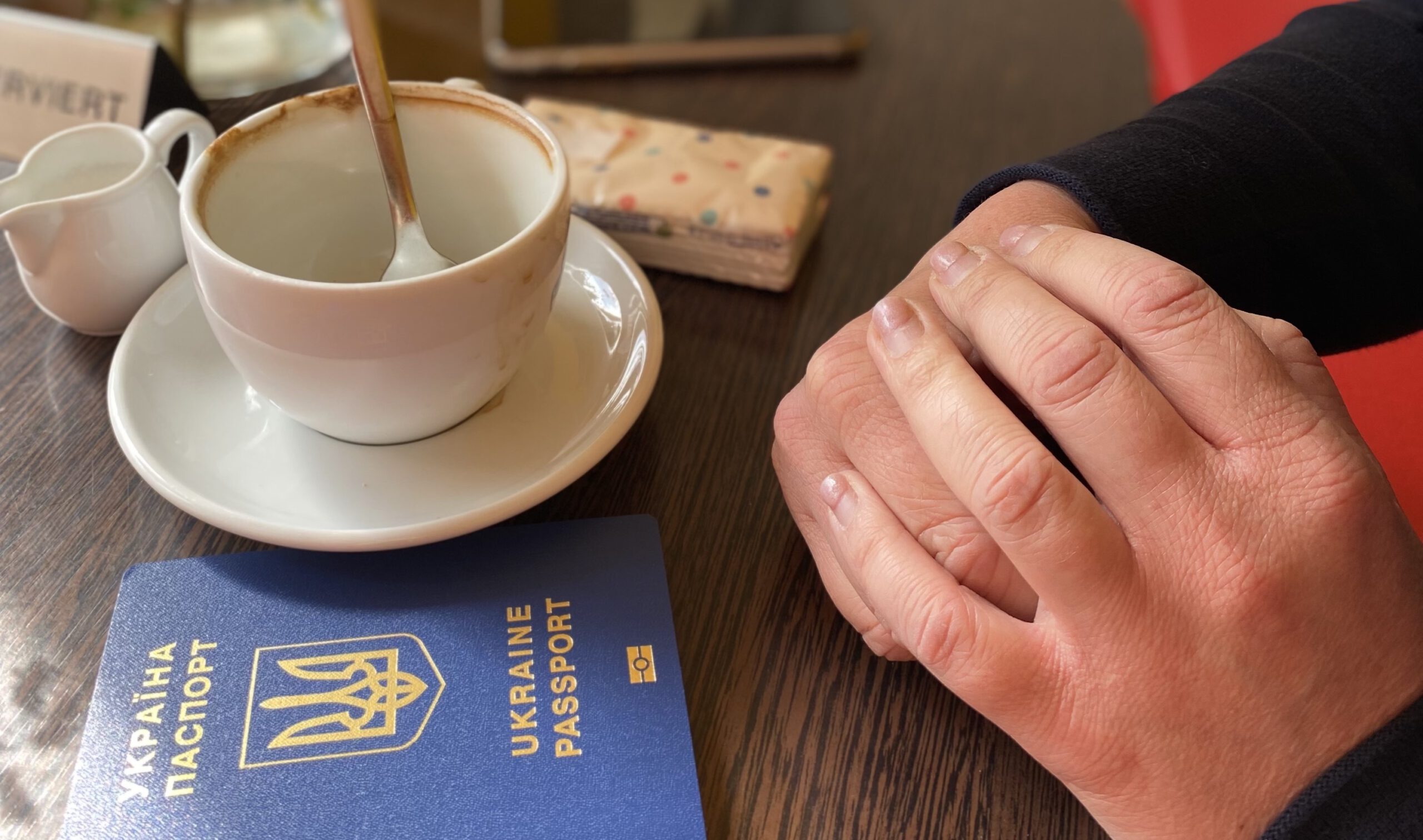 The grown-out nail polish is sad testament of Inessas (39) last visit to Ukraine nail studio.
Until three weeks ago, I was happily living in Kiev, with my husband, two children and my mother. Our apartment was on the 16th floor of a modern building. On March 6th, I had to go on the run with my son Alex (16), while leaving my daughter Ana (7) with my mother in Ukraine. Now I call her three times a day, sometimes we talk by video link. Anna can't speak, but she hears my voice. She sits in a special wheelchair.
Due to my daughter's cerebral palsy, she had no other way out.
By the way, what type of dialogue are we having: Is this a formal interview or a friendly conversation? I am not sure if I can do that… Do you follow the news? Yesterday I was shocked by the terror, the killing of children, it terrifies me. I'm very afraid of everything now. Many women on the run are traumatized, we get scared at the slightest noise. My psychological state is bad…
Nevertheless, I will tell you the whole story now.
When the war started on February 24th, we remained ten days in our town, hiding in the basement. It was a very difficult humanitarian situation, especially from the fifth day when the electricity was cut off. I was mostly worried about my daughter's health because she needs special nourishment, respectively warm food. Every day I made my way to the house next door, where the neighbor would let me use her kitchen. There was nothing to choose from, I cooked vegetable soup, we had some potatoes and eggs.
I am sorry, but who's going to listen to your audio recording? I'm not sure I agree with this. Honestly, I'm very nervous. I was scared before we met, because I'm in a foreign country. Even in Lübeck I don't feel safe. The danger of war makes me think of going even further, maybe to Canada. I am very afraid to give out personal information.
I want it to be confidential, maybe Russians will read this article?
My hands are shaking, but I keep going. Every morning around eight 'o clock -before the bombings continued- I went upstairs. From the 16th floor I witnessed collapsed buildings, fires, and smoke everywhere. When I told my neighbors about the destruction, they replied: "Inessa, stay calm. It will stop, soon!" But I was so anxious, and, in my heart, I already knew that I would have to evacuate my family. On Mach 5th, I witnessed a large landmine explode in our immediate vicinity. The whole house shook and, in my fear, I shouted: "Let's pack up our clothes and leave, immediately!" But my husband and my mother refused.
I laugh to protect myself, that's my defensive reaction.
Late that same day, my mother had managed to take a city bus with Anna to escape. They ended up in a house of a small village 150 kilometers outside the city that once belonged to my grandparents. Meanwhile, my son and I took a cab to the train station. A few days later the roads were destroyed. The thought makes me shiver because it was my last chance to get out. My husband is the only one who remained in the house until today. He has diabetes. My heart feels so much pain because, I had to leave them behind. Due to Anna's complicated health condition, options were weighed on how to proceed.
When I think of the 25 hours on the evacuation train, 
I only remember darkness, cold and fear. 
When I think of Anna, 
I only feel light, love and hope. 
My biggest dream is is to get my daughter out of Ukraine. 
You know, she has my eyes and my smile.
---
Interview & Photo ©: Sandy Bossier-Steuerwald
Please follow and like us: