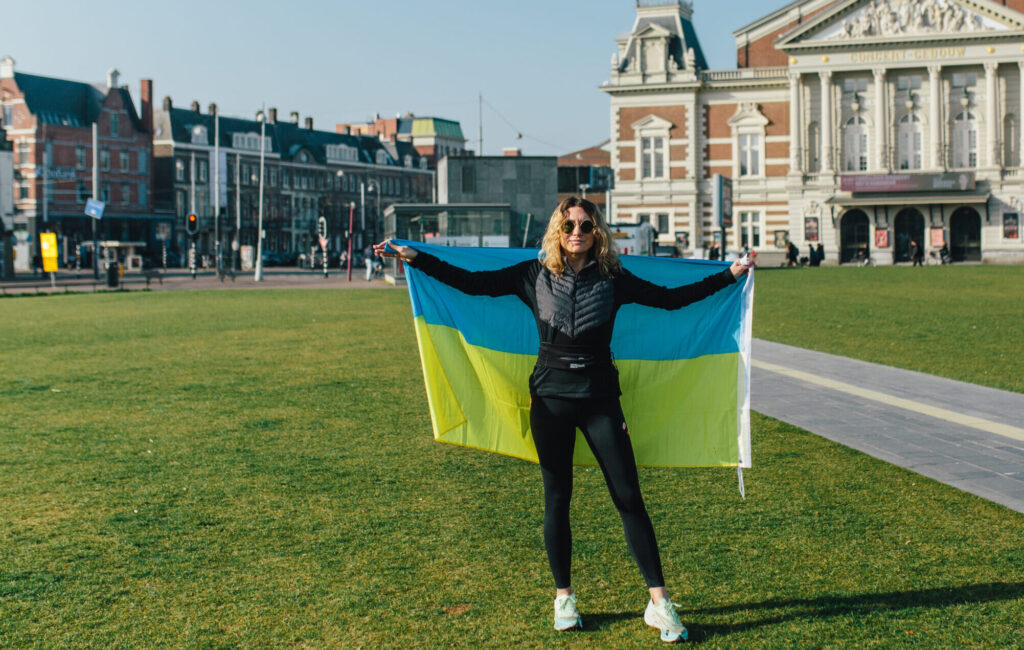 Tetiana Grynova (37) after her 22nd half marathon on March 30th, 2022.
Originally, I planned to set a Guinness world record in the summer of 2022. I was going to run 120 marathons in 120 days, but on February 24th everything changed. With the outbreak of the war, I had to take my son Danya and leave Ukraine immediately. Luckily, we did not hear bombs, nor did we need shelter. At the same time, almost all people on the run are feeling guilty, as if they are not contributing enough to their country.
"I tell my son not to feel guilty, but to be honest, I feel guilty myself."
After we had managed to satisfy basic needs and found a place to stay in Amsterdam, I changed purpose of the original run (obviously, the Guinness record currently is not of importance anymore). I have realized that I may achieve even more for my people from exile. Now, I raise money for Ukrainian charity: "I run a half marathon with the Ukrainian flag every day until the war is over. Today is day 22."
I am a "Woman on the run" in both senses – literally and physically.
I started running nine years ago when my son was born. It was my hobby, while working as a media manager and journalist. In 2020, I decided to work full-time in charity and sold my online media platform. I started Kind Challenge as a non-governmental organization with the goal to aid charity in the Ukraine and I cooperate with more than 100 Ukrainian non-profits. Until now, we have been raising for different charities about $350,000 (all over Europe), – from children with cancer to elder people, animals in shelters, people with disabilities, ecology etc.
"I can't go home now, 
I can't concentrate on books, 
I can't allow emotions, 
but I can always go running."
On the run I figure out solutions and I have new ideas. Running helps me to stay focused, because it's about discipline – but not only, it's also about hormones, endorphin, dopamine and so on. I am convinced that running is something super useful for me, not only physically but also emotionally – It's time for myself.
Running is my meditation and medicine, a great boost.
Every human being needs a base, especially in dark times, as we have now. People on the run freeze their emotions. They have lost everything and need to find a stable base with tradition, rituals, schedules… Usually, I read a lot of books, but currently I cannot focus on long texts. It's a shame because it's my passion. Now, running is my base: It's super simple and something you can do everywhere. Well, except in places where bombs are falling, let's say "almost anywhere" … And that's it. That's the whole story.
---
HOW TO HELP TETIANA:
Everybody around the world may join the group "Run for Ukraine" at strava club. Run any distance from one to 21.1 kilometres with any Ukrainian symbol and post your run @Instagram with the hashtag #runforukraine. In addition, you may donate for charity here.
---
Interview Sandy Bossier-Steuerwald/ Photos ©: Marina Polovinkina
Please follow and like us: