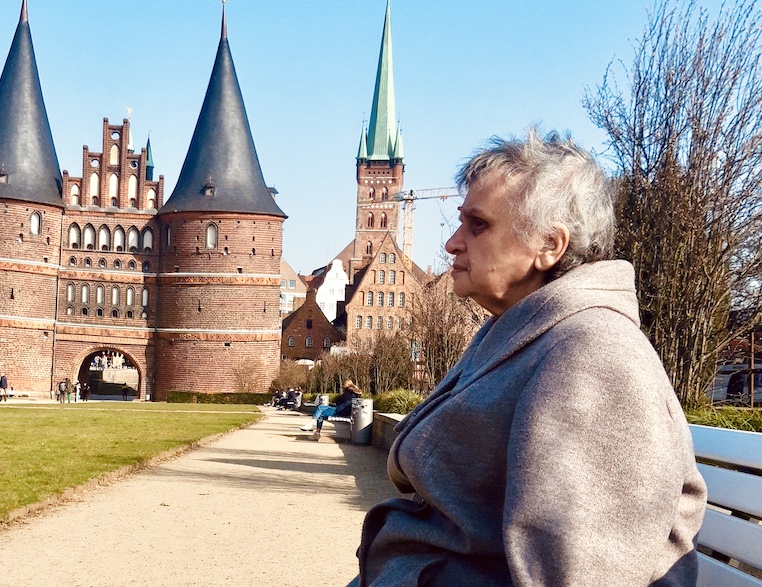 Valeriia T. (64) is in Lübeck, Germany since the 1st of March, 2022.
Actually, I had a doctor's appointment for post-operative wound care on February 24th, 2022, but there wasn't any taxi available. Everything got mixed up. My husband passed away six years ago. I have been living in Lviv with my 39-year-old daughter Iryna for the past 18 months. My younger daughter Alina is 29 and has been living in Lübeck for several years. Shortly after the war broke out, both of them decided for me that I had to leave the country. I would have preferred to stay, but I have already had five operations.
In Germany, medical care is assured, but my mental pain exceeds the physical pain.
Every day I watch the news and worry – about Iryna and Lviv. It is very bad to see our homeland being destroyed. In Ukraine, I was a very good editor until I retired, I worked in a publishing house and I am very proud of that. I think everyone must have free access to different media. Only in this way can information be compared, and one can form an opinion.
"Freedom is being able to justify one's own opinion and respect other opinions."
Furthermore, freedom for me means having a reliable network of friends, colleagues, acquaintances and relatives. However, as I get older, I notice that this network is getting narrow – even more important to maintain it. I surround myself with understanding people whom I can trust. My whole family has Jewish roots, and I am a member of the Kharkiv Jewish community. When I lived there, before Corona and the war, we met weekly in the synagogue, read the Torah and spent all holidays together.
In the Torah I find a truth that helps me to understand life.
Now we have a women's group on WhatsApp to share the contents and wisdom of the Torah. Only two out of 25 women in my group still live in Kharkiv, the others are on the run, the war has scattered them in all directions… to the west of Ukraine, Poland, Germany, Holland or Israel. Nevertheless, we stick together and support each other. On the 16th of March was Purim, in itself a joyful festival that commemorates the salvation of the Jewish people. However, our Rabbi and Rabbiess deliberately brought us together on the occasion of the holiday at this difficult time: we exchanged ideas online and talked about the festival. We rejoiced together and cried together.
"The most important thing I have learned on my difficult path is the value of mutual human help."
The car journey from Lviv to the Polish border took only two hours, then I had to wait eleven hours in the pedestrian queue for the crossing. Nobody had expected this rush, it was a disaster. Many Polish volunteers helped in the dark at minus five degrees with clothes and blankets. There were so many little babies crying and screaming. The mothers' nerves were on edge and some could not hold back their emotions. This situation was very stressful, but we all had no choice but to wait.
"I see the many volunteers and human generosity and I have not lost faith in people."
In between, I sat down on my suitcase from fatigue. I was so agitated and in desperation I cried out: "I can't take it anymore!" I was at my wits' end, although I knew that behind me the bombs were falling and there was no turning back. My daughters were in contact with me all night via WhatsApp. Iryna wrote from Lviv: "Mum, go! You have to go. I have done everything humanly possible to get you to a safe place. I pray for you!" And Alina wrote from Lübeck: "Mum, come! I'm waiting for you! You have to come." A few meters before the border I fainted from exhaustion and stress. A Polish emergency doctor had to pick me up and the helpers gave me a warm soup.
"What can one person give to another except a drop of warmth? 
And what could be more than that?"
(quoted from Erich Maria Remarque "Arc de Triomphe")

---
Interview: Sandy Bossier-Steuerwald/ Photos ©: Private
Please follow and like us: