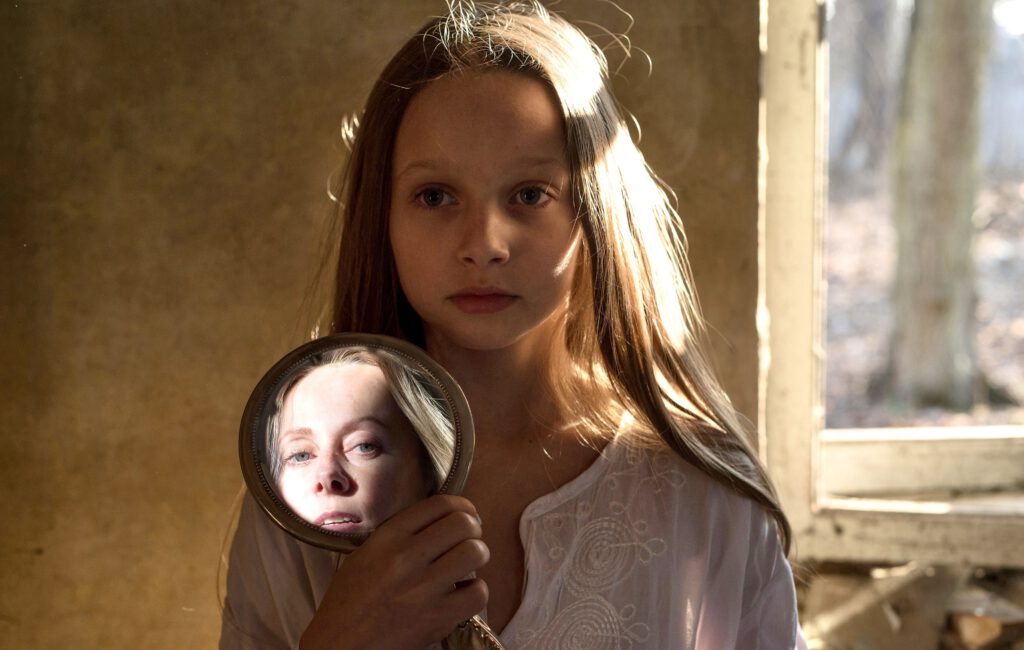 When Olena Morozova (43) looks at her daughter, she sees in her a part of her continuation.
I first started to think about death when I was seven years old. Back then, the world was a mysterious, strange and frightening place to me. My sister was two years elder than me. In our childhood we were playing, imagining ourselves being doll mothers. We had a very strong emotional connection. I used to dream about the future – how we would be grown-ups and play with our daughters, together. But something in me knew even then that this idea would never become real. Deep inside me slumbered a premonition.
The idea of immortality often crossed my mind.
In 2021, I had created a nice, interesting, and happy life for me and my kids in Kyiv. I was working as a visual artist on different photo projects. I went to art events, took part in international exhibitions. Besides my professional activities I had taken vocal- and piano classes, I did yoga and often celebrated with my children and friends. We used to go to the cinema to watch cartoon movies, together. I enjoyed life. You know what disturbs me most? As much as I loved traveling, I always loved coming home.
Now, I don't even know if there is a home to return to.
Suddenly war really happened, and no one could believe it. It was totally surreal. From our 22nd floor apartment I had a very nice view of big part of the city with river Dniper. I watched panicked people standing in lines in front of supermarkets and petrol stations. Therefore, my ex-husband and I decided to follow an invitation from friends in Poland, to seek shelter with them. I decided to pack carefully: Warm clothes (because it was winter), a lot of different food, also medicines. While I wasn't in a hurry, my children insisted to leave: "Mum, let's go on the run! We don't want to die!"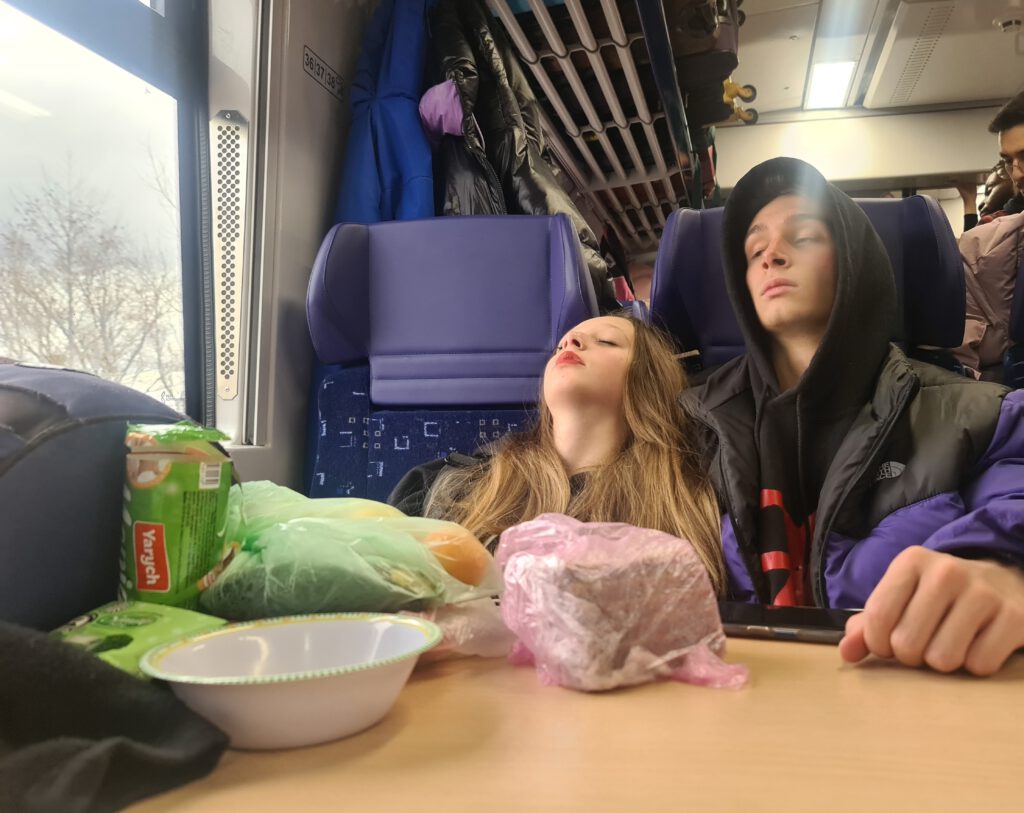 The situation in the Kyiv Railway Station was a complete mess.
With all our stuff, we were running from one overcrowded platform to the next. The trains were going in any directions without schedules. Although we eventually arrived in Poland via detours, the first month was terrible. I had the worst headaches of my life. I even had to take medication for it, this level of permanent pain was totally new to me. On top of that, I was always cold. I wasn't ill, but I was freezing. I just wanted to put a lot of things on me. I was in a shock. Meanwhile, my seven-year-old son began to talk about the war, about soldiers killing people, all the time. Every day, until now… I don't know how long we have to stay in exile – Maybe a year?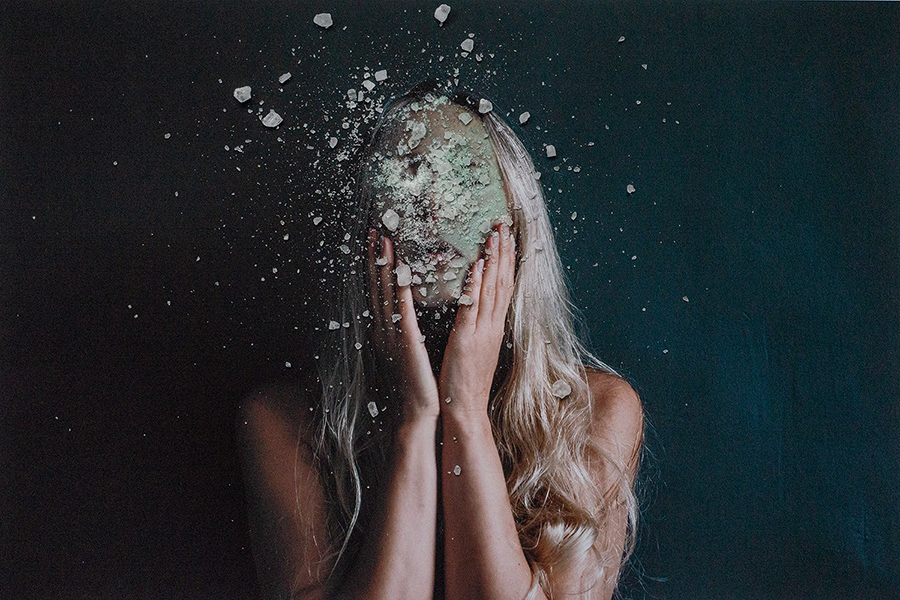 The war in my country awakened an old trauma: I finally came to terms with the war in my inner self.
---
Although stranded in uncertainty in Poland, I resumed my work. In exile, I felt a point of connection to "death" from war in Ukraine. I wanted to catch the moment, it felt like a necessity to do. The news was really affecting me. I started to put my reflections about tortured and killed people – specially children and young girls – in my artwork. The whole situation in Europe in 2022 raised up an old trauma:
Through my art, I let all the pain out and processed my sister's death 13 years ago.
When my sister died in an accident 2009, I was in a shock. It felt like a war was breaking out in my inner self. Only eight days later, I was giving life to my daughter Maria. Instinctively knowing, that I owed her the joy of being – and me the joy of motherhood – I conservated the grief inside. I couldn't accept my sister's death back then and I carried this trauma with me. I kept asking: "How can nature make people die?"
Ten years had to pass before I started a photo project in 2016 that I dedicated to my sister. In it I began exploring and reflecting my personal relationship with death. It was an ongoing work in progress, only now I feel the project is about to be connected: I realized that the new photos I have taken in Poland relating to death seem to complement my project. I have a good sense that the visual series is about to be finished.
FIND OUT MORE about the artwork from Olena Morozova on her website: www.olenamorozova.com/ or on Instagram: www.instagram.com/olenamorozova.art/
---
Interview: Sandy Bossier-Steuerwald & Copyright Photos: Teaser with mirror of Project "Maria", 2016-2020; Project selection incl. self portrait: © Olena Morozova
Please follow and like us: