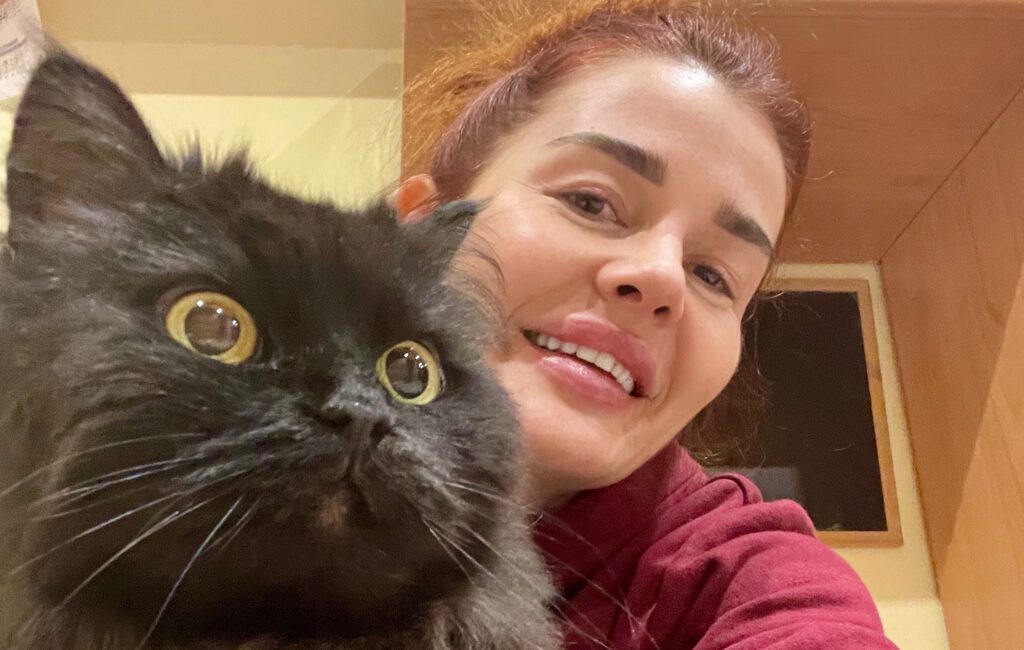 This is the story of of a double escape from Irene Zh. (36) and cat Chicksa.
There was something in the air those days in early February 2022. As a priority, I checked possibilities, how my cat Chicksa could leave Ukraine. I looked out for accompanied pet transports, who could escort her. With 14 years, my cat's already is an old lady. Since the airlines were too expensive, I decided to send her to Italy accompanied by a minibus. My sister would welcome her in Cucciago, where she lives with her husband.
My cat has a passport and is vaccinated.
With a heavy heart and shaking hands, I had to give Chicksa on the run alone. On Tuesday, 8th of February I put her in the train to Chernivtsi, a city about 600 kilometers southwest of Kyiv. Once arrived, the companions changed from the rails to the road. For two days, I didn't hear anything. I wasn't given the direct number of the driver and I started to panic, since my cat was alone for the first time so long…
On Friday, I received a call, that the driver had to turn around due to closed roads. Now, they were back in Chernivtsi. I immediately packed a bag pack with my laptop and some underwear and followed. Desperate, I finally managed to find a hotel that accepted pets. I ended up staying three nights with Chicksa, spending Valentine's Day with my cat at the hotel.
I imagine spending next years Valentine 
with a true love at the seaside -  
But it's just on vacation 
and we will return to our home in Kiev.
The next day, I was able to send Chicksa back on the road. While she got to Italy even before I did, I was making plans for myself how to leave Ukraine. The news was already suspecting that the war could start any day, now. Since I hadn't brought my passport with me to Chernivtsi, I had to return to Kyiev to pack, collect documents and so on. I also managed to buy a flight ticket to Milan for February 25th.
When the bombing planes arrived, it felt, as if someone had pressed the pause key.
When I woke up at 5am in the morning of February 24th, 2022 the Boryspil International Airport was damaged, as all airports in Ukraine were bombed. My flight ticket to Milan was redundant. I phoned relatives and friends and joined team chats with colleges. Some supposed, everything would be fine in a short while, others were completely freaked out. The same afternoon, I put my documents in a small shoulder bag and made my way to Kyiv Central Train Station.
Around 5pm I was standing at the platform, already in sight of the train when the sirens started to scream. You know, a fighter aircraft doesn't sound like a usual airplane. It makes a completely different noise – I don't know why, maybe because of their weight or speed?! All people looked terrified in the sky, then at each other. Everyone froze for a second, no one knew what to do.
I surrendered to fate thinking: It will be what it will be.
Normally you can get food and drinks in a train, but there was nothing left. Once I arrived in Chernivtsi, I went a in a restroom of a café for water, to brush my teeth and wash my face. I snatched a taxi and the driver dropped me off, as close as we could get at the Ukrainian-Romanian border. I began to walk really fast, heading straight towards Siret Customs Douane. I don't know how many kilometers, I just kept walking for one hour, maybe. I have long legs, you must know.
I crossed the border to Romania by foot, but without a plan. It was naive, because there was nothing on the other side – just a field.
I found some Rumanian volunteers to talk to and a couple offered to give shelter. I got in the car and as we started driving cross country, I texted my sister: "I am not exactly sure where I am going, but some foreigners are taking me…". Suddenly, Wi-Fi disappeared. When we arrived at their house and reconnected to the internet, my sister screamed hysterically at me. Her Italian family and friends had already gathered to carry out a rescue operation from Romania by then…
It was a great pleasure for me to meet this family. 
It helped me a lot to get my mind off things.
Luckily, everything turned out to be fine. My host parents belong to Pentecostal church and have many children. They provided me a room and offered to stay as long as I needed. It was the last week of February. In the evenings, some other relatives came and brought another bunch of children. I had lost track of who belonged to whom. It was so crowded and loud in the house; I didn't understand half what they were talking about. We played parlor games, for example, a kind of dominoes, for which the whole huge table was needed.
I got hold of a flight ticket for March 1st, 2022 to Italy. A cousin of my host family gave me a ride to a small airport in Lași. It was crowded with Ukrainians on the run and Rumanian volunteers. In the evening, I finally landed in Italy. After the pass control an official lady seriously asked me: "Do you have a return flight ticket?" She wasn't joking, silently put a stamp in my passport and waved me through.
---
Interview: Sandy Bossier-Steuerwald & Photo ©: Private
Please follow and like us: