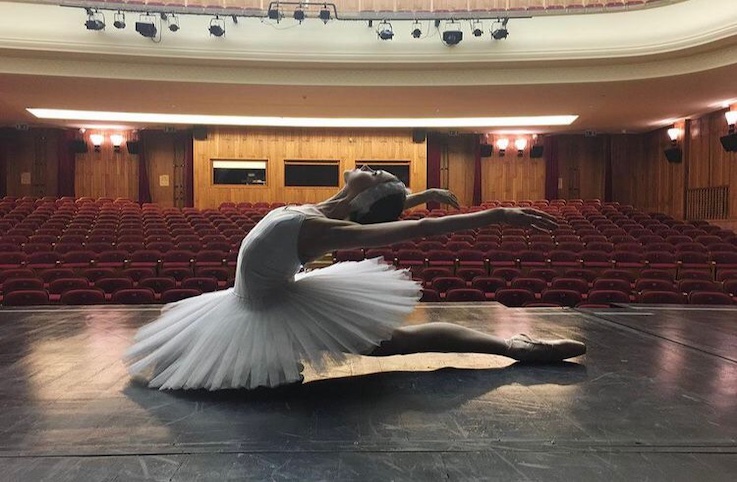 Anastasia Gladun, a professional ballet dancer from Kiev, is stranded in New York City in the year 2022.
The ballet tour was in its third week when the war broke out. We were traveling around the United States by bus, performing "Swan Lake" in a different city every day. On February 24, we had just finished 14 shows out of 50, and – to be honest – I don't even remember the city we were in that night. But I do remember sitting in my hotel room after the play, taking off my makeup. Around 11 p.m., my Russian roommate, who was sitting next me told me that her country had attacked Ukraine. We both couldn't believe it.
The ballet tour continued despite the war in Ukraine: "The show must go on!"
I had started dancing as a child. My ballet teacher was of the old type, very good at it, and yet I stopped at the age of 12. Later, as a student of economic theory, the wish to dance came up again. It was a physical desire that I could no longer ignore. I found ways to learn quickly and make up for the missed years. While I was successfully working as a brand manager and finishing my study, I went to a dance class every night. At some point, I was at a crossroads and quit my job. I had understood that my life related to the dance – I cannot live without it.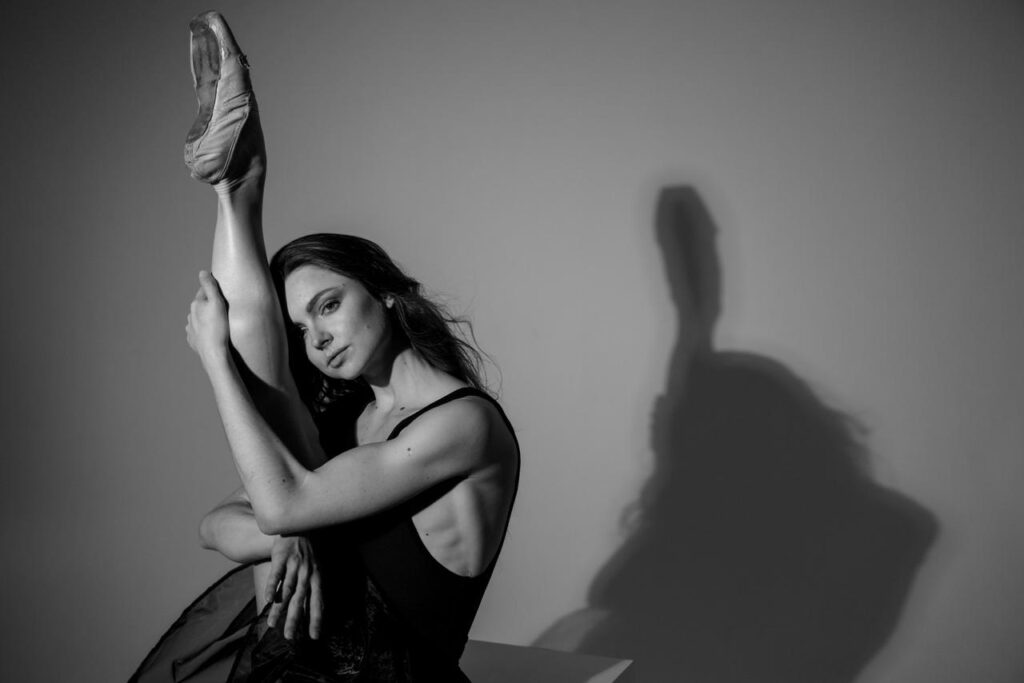 The "Swan Lake" tour kept on running as planned for 2.5 months in 2022. People had bought tickets, so we performed as usual. For me it was good to have work because you can't digress with your terrible thoughts. During rehearsals you must be fully present – on stage you should smile. And yet, during the waltz, tears ran down my face. My dance partner whispered, "We are actors, you have to act!" But at that time, everyone was shocked, we were all crying, on and off stage. Sometimes someone would give a short memorial speech or a moment of silence before the performance of Swan Lake, but I can assure you:
No meaningful slogan can undo the apocalyptic feelings inside.
Over the next few weeks, I slept very little, and I began to live with my phone: I constantly followed the news. I texted with my sister, who is on the run with her six-month-old baby and my mother, and prayed for my father and brother, who stayed Ukraine. I often cried until 4 a.m., got up early, traveled, and performed again. During that difficult time, I asked myself: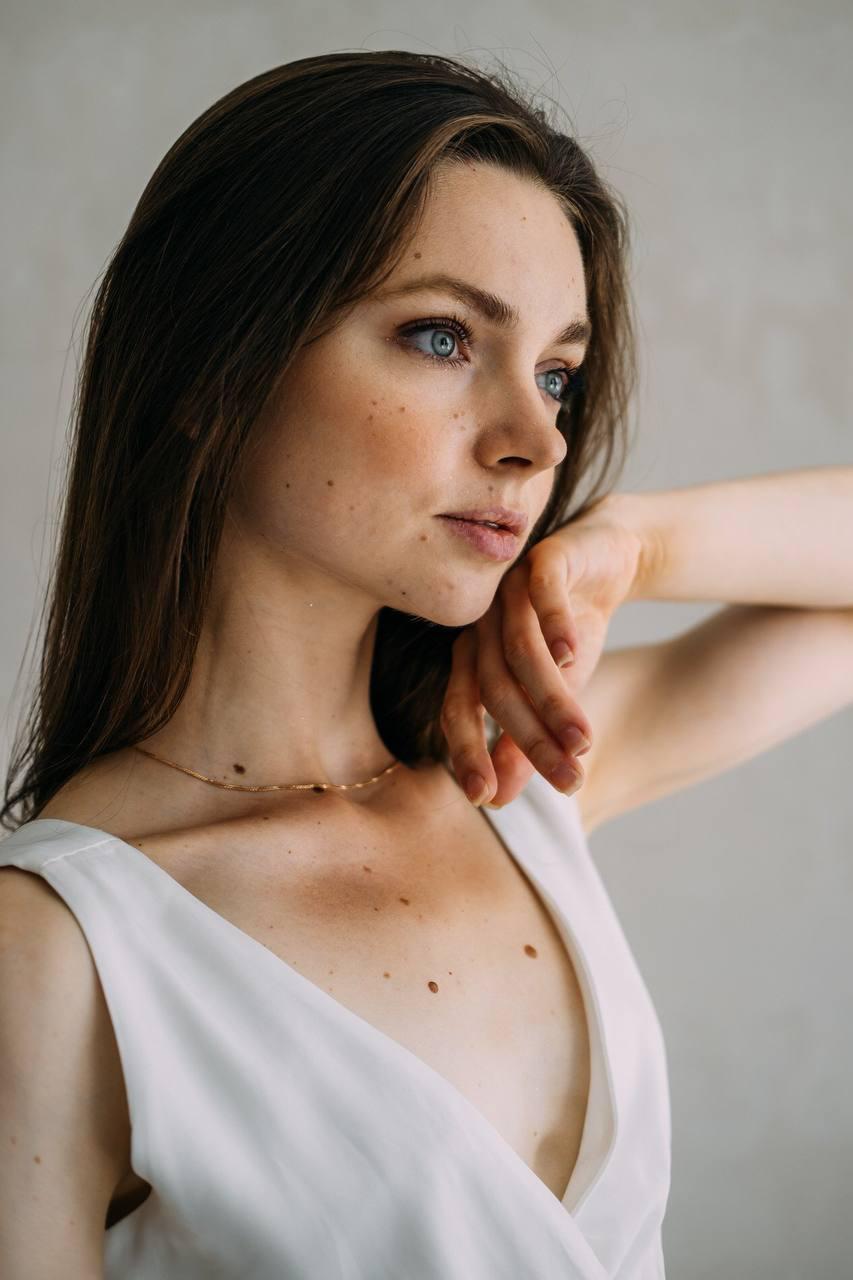 What is the meaning of life,
if you build a good life for yourself
but someone else has the power
to destroy it arbitrarily and ruthlessly?
From 2015 to 2020 I got to travel a lot – to Lebanon, Israel, China, and Europe. I took part in the filming of Disney's "Dumbo" in London, a great childhood dream. For two years I was on the road more than at home in Kiev, but corona gave everything a break. When I got the contract for the Swan Lake USA tour in 2022, I was very grateful. In February I said goodbye to my mother in Ukraine: "See you in April!"
I felt like falling backwards, deeper and deeper, into some dark place.
With the war going on all airports in Ukraine were closed. I realized that I could not fly back home. My original return flight from L.A. to Kiev on April 10th was cancelled, and suddenly I found myself in official "Temporary protection Status." Stranded in the U.S., I had to figure out what to do with myself. Before the war, I had loved setting goals, moving forward step by step, but now I had lost the joy of living. I was afraid of my own thoughts, which kept wandering back home…
When we had a day off from "Swan Lake" in Houston, Texas, I went to this bookstore called "Barnes & Noble". I found a book called "Men's searching for meaning" by an Austrian psychologist Viktor Frankl, who had survived a concentration camp during World War II. He talked about his imprisonment and how important it was to have a purpose in life to survive. This inspired me a lot and I realized that I must stop feeling sorry for myself. I decided to make the best of the situation, you know:
The one place in the world I've always wanted to go is New York.
---
Interview: Sandy Bossier-Steuerwald, Photo ©: Private
Please follow and like us: