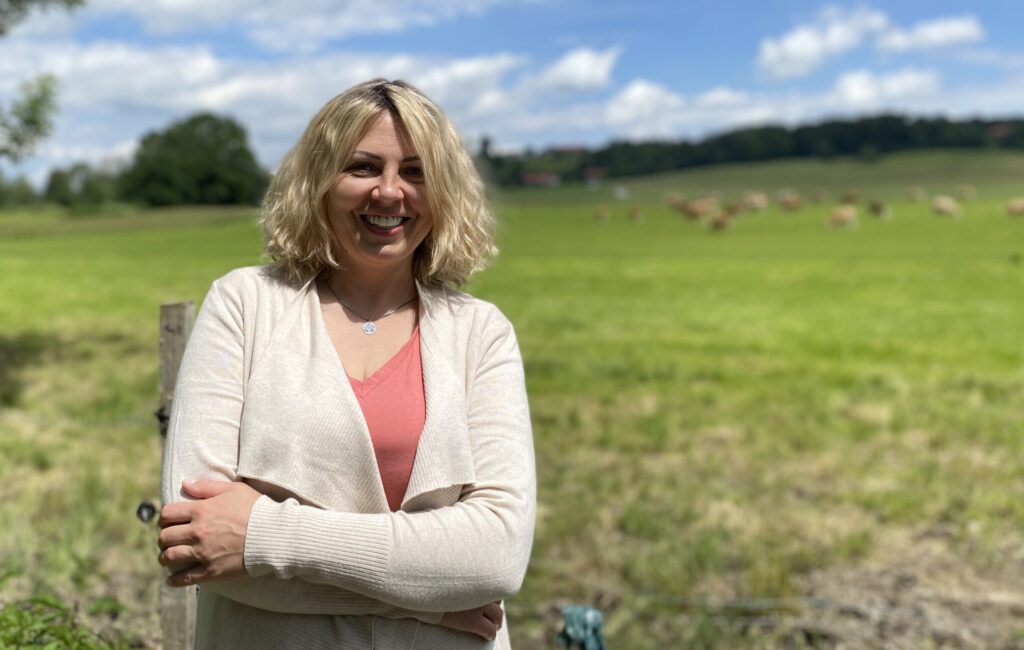 Eleven days on the road made Anzhelika N. (46) realise how connected she is to her children.
I have never traveled the world. I was always afraid to leave my nest. When you are sitting at home in your familiar surroundings, you are limited in many ways. Maybe it's human nature to be afraid of the unknown, maybe it was my personal lack of foreign language skills – either way the foreign seemed dangerous. When we left Ukraine, the world opened to me in a new, positive way, very different from what I had imagined: the world is a happy place, and the people around me are not at all as scary as I thought. You just have to get out and walk towards them.
When we left Ukraine, the world opened to me in a new, positive way.
When I was born in Latvia in 1975, the country was still part of the Soviet Union. At the age of four, I remember training flights of fighter jets. In kindergarten we were prepared for emergencies and had to run into the air-raid shelters on a trial basis. Also, military celebrations to commemorate the end of World War II made a big impression on me – maybe because you have so much imagination as a child. In any case, I was haunted by realistic nightmares of war, so I often woke up crying. Having a very cold relationship with my parents, I never told anyone about it. I had to work it out with myself.
My fear of war has been with me all my life. 
It got better with age - until then came 2022.
At the age of 18, I met my husband Sergei at the University in Riga. For six years, we lived in his hometown in Russia, where Anastasia was born, before we moved to Ukraine in 1999. A friend had asked us to open up a car wash in the center of Odesa, together. We then had two sons, Egor and Gleb. Six years ago, my husband returned to Russia for work. We are still married, but it has become a bit complicated.
The main point for going on the run was the safety of my children.
In 2022, I was taking courses for cosmeticians, I was just building a new life for myself. Already, in the first night of war – we slept in my daughters Zero-Waste-Shop, for safety reasons- I made the decision to leave Ukraine. I had no choice, because of my eldest son: I knew that they would soon call him up into the army. When we managed to cross the border line to Moldova together on 25th of February, it was my happiest moment in years. If they hadn't let Egor pass, we would have all turned back. We could have not left him alone in Ukraine.
Reality feels like my childhood nightmare coming true.
From then on, we were on the run for eleven days. People on the way had a lot of compassion, I was positively surprised. In the forests of the Transylvanian mountains my car just stopped, due to a broken thermostat. We became technical support by Romanian mechanics – without charge, but with empathy. People gave more than we had asked for. We stayed with kind-hearted Hungarians and were impressed by nature in Austria. On the run from Odesa to Munich, I realized how much we are a family, how connected we are. [Turning to Anastasia, in tears]: "I trusted you completely, I saw how mature and independent you are – you can take things into your own hands."
For a two-year-old child, his mother is the whole world – on the run I could feel this care and love from my daughter's side.
In my life I have understood that my children are good in every perspective, and I am very proud of each of them. I am proud of their achievements, their successes, because each of the three has his own. On the run I felt a kind of integrity and deep trust in my children. An inner feeling, balm for my soul, to realize that my children have grown so much in me. I feel a great sense of gratitude towards them.
---
Interview: Sandy Bossier-Steuerwald & Photo: © private
Please follow and like us: