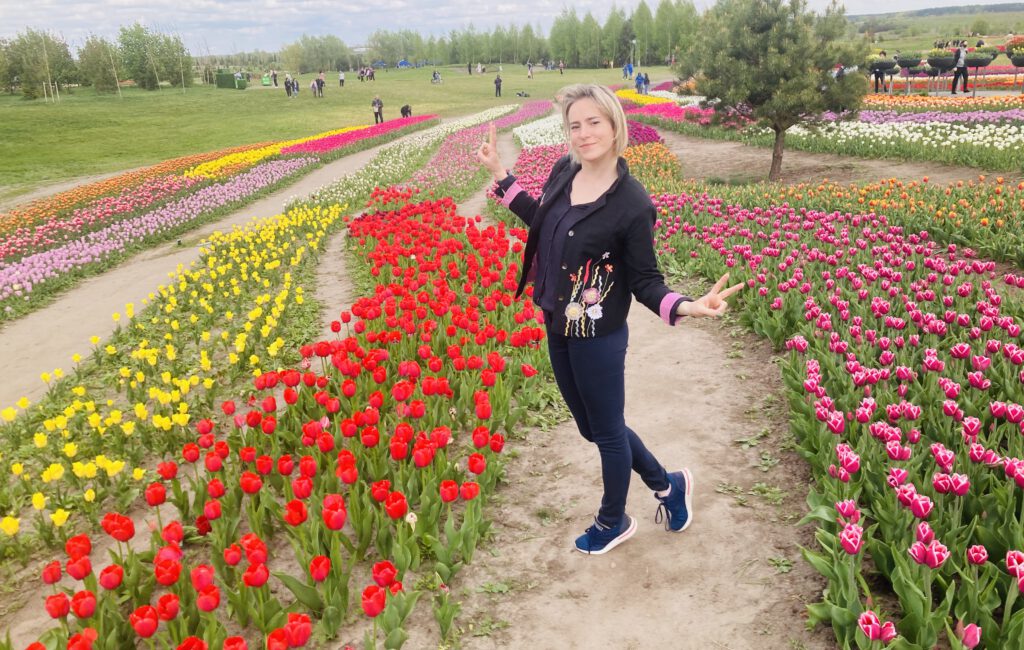 You ask me "What happened?" – War happened! Vira Halkina is currently in Switzerland.
There was only one intact road leading west from Kiev. So we joined the queue to snake our way through this eye of a needle in long traffic jams. We saw damaged cars without windows, cars with bullet holes and some injured people in the back seats. In some rear windows were homemade paper signs on which people had written "CHILDREN", hoping the Russians would spare families with children. A fallacy, as we know today.
My son didn't cry, he acted like an older boy, brave and mature.
At 13, my son Daniel is old enough to understand what is happening. On the run, we talked to him about the worst-case scenario: in case we, his parents, were killed but he stayed alive, we gave him instructions and talked to him about what to do if the Russians shot at us. We gave him badges with pictures and numbers of relatives and friends to contact. A week before the war started, our government had asked people to prepare emergency bags.
I made three individual bags – one for my son, my husband and me – with water, food, lighters and medicine to survive for a week.
On February 23rd, the night before Russia entered the war, Daniel's football team had won the semi-finals of a very important football tournament in Kiev. Only a few days later they were to play against Dynamo Kiev – one of the most famous Ukrainian children's teams. The evening was good, we went to a restaurant and drank wine to celebrate the victory with our team. The next morning, my sister called at 6 o'clock to tell me the latest news. It was hard to understand because we have so many close ties between our countries. We have Russian relatives and Russians have relatives in Ukraine.
It was a big traffic jam at 6 o clock already – thousands of cars in the streets.
But no matter, I got dressed immediately and went to the next 24-hour shop around the corner. It was crowded with hundreds of people buying oil, meat and fish. I had to wait in line outside and inside almost all the shelves were already empty. Everything that was available was bought. The banks were also crowded because people were trying to withdraw money. People tried to leave via our city (Obukhiv) , which is about 20 km outside of Kiev. All wanted to flee. When people realized that they have nothing to expect from Russia – they started running: with children, with the elderly, with pets – they ran and ran and ran… everyone ran. And everyone needed gas to get to the border. There were a few hundred cars queuing at the gas station, you had to wait five hours, it was a disaster.
When you have almost everything in your motherland, it's very difficult to shut the door and move to the unknown.
For a week, my family and I remained home, but when our government warned that Russian troops would soon try to invade Kiev, we decided to leave, too. We set out for Tulchin, a city in Vinitsa region, by car near the border to Moldovia, to stay with friends of us. We wanted to win time and wait to see how things in Ukraine would be developing. It was eleven of us in this house, all unsure of what to do next, all hoping to return home soon.
You try to convince yourself that everything will be all right, until the end.
You find reasons to stay. We debated whether to leave or not – so many motives are good to weigh up – it took us a while to make a decision. In the end, it was my husband who insisted that I have to go with our son and he stays. Daniel is his only child, and I think it's a natural instinct to protect your child.
As Volodymyr Selenskyj stressed on the news: "If you want to help our army, you must leave Kiev and Miropol…. If you have relatives abroad, please take every opportunity to leave!" Our President had asked all mothers to protect not their homes but their lives. Our army is doing its best, but it can only fight and win if there are no civilians in the city. I also realized that the first priority is to protect our children: We must use the opportunity to make them happy, give them a good education and one day bring them back to Ukraine healthy and with good knowledge.
The future as Ukrainians lies in our children. 
One day they will return healthy and educated 
and rebuild their homeland.
My husband took us to the border crossing Checkpoint "Mohyliv-Podilskyi – Otach" where the Dniester River separates Ukraine and Moldova: our homeland is on one bank and Otach/ Moldova on the other. If you want to cross the border here, you have to cross the bridge. We chose this trail because we knew it wasn't crowded (through an interactive map that lets you spot people walking in real time).
My son and I were about to cross the bridge and my husband had to stay behind.
He promised to protect himself, my son and I cried. During the six-minute walk, I turned my head back and looked at my husband. Standing alone on the Ukrainian side of the river, I think he was crying, but I'm not sure. The only time I've seen him cry is when he lost a close friend way too soon.
I was thinking, will I ever see him again, or my relatives, or my country… it was very, very painful.
My husband and I had assured each other that we would do anything to stay alive, give our son an education and find a way – not to a better one – but to a normal life. But actually, you can't promise anything in this situation, do you understand? All words are just words. Nevertheless, we are firmly convinced that we will see each other again soon, whether in Ukraine or in Switzerland – because we promised each other.
---
Interview: Sandy Bossier-Steuerwald & Photo: © private
Please follow and like us: