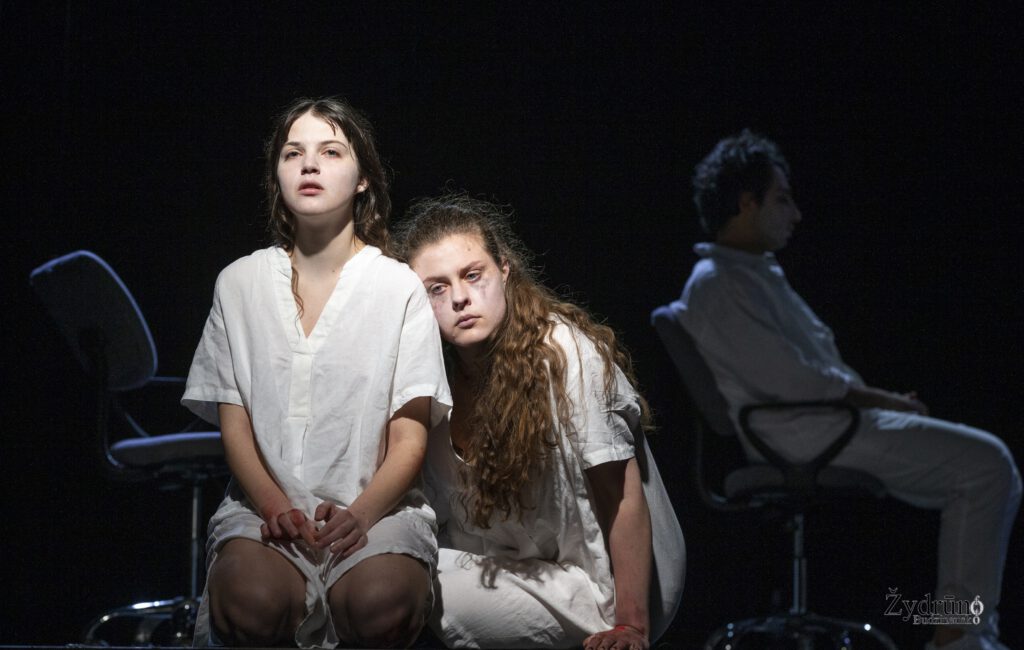 "In Lithuanian exile, I can continue to do what I do best: Acting." Kateryna Aleksieieva (right) with Yelyzaveta Tsilyk on stage in "Karo spirale", a play about war in Ukraine.
Even though I seem happy now, there is a telling situation that illustrates my ambivalent feelings in exile: I had decided to take part in an acting workshop in Lithuania and set off there by train. I had learned that train rides were free of charge for people who had fled Ukraine, and I traveled only with my passport. But when the conductor came and asked for my ticket, I suddenly felt like a beggar and burst into tears. It was awful, kind of bizarre, and I tried to calm myself down, "It's okay, Kate… you're in this situation through no fault of your own…. The Lithuanian government wants to help you and other Ukrainians* fleeing." But I felt so pathetic that I just couldn't stop crying.
Of course, I could have paid for the train ticket, but I didn't have a job at the time and thought I'd better save the money for lunch.
Since I was 13 years old, I wanted to become an actress. When I was 16, I was offered a role in a theater in my hometown Mykolaiv, in the south of Ukraine, but my mother insisted on a serious education. While I was already working in the theater, where my focus was, I was still studying to be a teacher, sort of on the side…
Until February 2022 I had a fast life in Kyiv, Ukraine.
Until February this year, I had been working as a coach at the Kyiv National I. K. Karpenko-Kary Theatre, Cinema and Television University and taught "Stage Speech". I have been living in the city for six years, sharing an apartment with my theatre colleague and friend Karina since 2021. The two of us have had a fast life: We worked six days a week, on my day off – on mondays – I had my second job at the university. We were working all the time and my career was going uphill: I was on the verge of a breakthrough because I had gotten what I had been waiting for all my life: the lead role in a TV soap for 2022.
When people started talking about a possible war, I didn't pay attention to them.
On 25th of February, we had planned a theatre premiere and the days before we almost lived in the theatre – from 10 am to 11 pm. We didn't think of anything else than rehearsals, costumes and make-up, about hair, style and music. My brain was totally focused on the upcoming premiere. When I woke up at 5 a.m. to a strange noise at the window that morning, I felt, something was wrong was going on. People from different regions in Ukraine were reporting bombings and my mom confirmed the news firsthand. She wrote to me via Telegram from Mykolaiv: "Kate, it's a nightmare."
At three o'clock in the afternoon, when the siren went off for the first time, Karina told me what this unknown noise was – She originally comes from Donezk region and was therefore used to the sound of sirens. You know, the sirens sound very strange, not like a bell…. more like a knife in the heart.
I naively believed that the war will stop within a few hours.
I thank God that Karina was around. The two of us slept together in our hallway, in clothes on a mattress, ready to leave anytime. But, where should we go, if anywhere? To a basement? To the "green corridor"? We simply had no idea where to go.
Leaving Kiev proved to be the most difficult decision. 
It didn't matter where we would end up, 
whether in Poland, Lithuania or Germany. 
The worst thing was to turn our backs on our homeland.
In the end, we remained in our apartment for two weeks during the war. Every day was different: one day I was ready to go, but Karina was not. The next day she said, "Okay, let's go on the run now!" but this time I hesitated, "Oh no, Karina, maybe today is not the right day…" It was an up and down of emotions, one moment we were fine, the next not at all. We talked a lot, checked the news on our phones. We cleaned the apartment to keep ourselves busy. I asked Karina, who is a great cook, to make hot soups for us, because it was a strong winter. Before I had always eaten out, now we cooked together, according to the motto
Let's distract ourselves from war and cook borscht!
We were in this mess together and we were afraid of everything. I was a firm believer that when we left the apartment, we had to leave together. I would never have left Karina alone. One night I heard a strange noise in the bathroom, and I began to cry distraught. I was afraid that someone had broken into the apartment, maybe a stranger, a soldier…. It took a few minutes to realize that fortunately it was only a broken toilet flush in the bathroom! At that moment I realized that I had to go, that we had to go.
Finally, we left our flat and Kiev on March 8th, 2022.
We fled together to Khmel'nyts'kyi – 200 km from Kiev – to stay with friends of friends. Then we parted ways. While I am still in Lithuania now, Karina returned to our apartment in Kiev already in mid-April. She said, "Kate, my parents are in Donetsk, where would I go? I don't want to live anywhere but here!" And I promised, "Karina, I will visit you, and then you have to cook borscht for us again, yes?!" And I asked her to show me my room on Facetime, my perfumes, my creams, my clothes, I was glad to see that everything was still in its place…. When the sirens went off, she didn't respond, but said "Kate, I'm tired. If a bomb falls on our apartment, it will fall on our apartment. And that's all."
When I myself returned to Kiev for a six-day visit at the end of June 2022, I was afraid to hear the sirens again: What would I feel? How would I react? By that time, many Ukrainians had returned, and the city seemed to be reviving – at least in parts. I took a cab to visit my mother and sister and the driver was very concerned about my well-being. He asked, "Are you sure you're okay?" I sat in the back seat with many gifts on my lap and nodded. He maneuvered the car through the streets of war-torn Kiev, then suddenly the sirens started wailing. "Everything is fine, don't worry!" The driver reassured me and simply continued the journey.
---
Interview: Sandy Bossier-Steuerwald. Photo © Žydrūnas Budzinauskas
Please follow and like us: