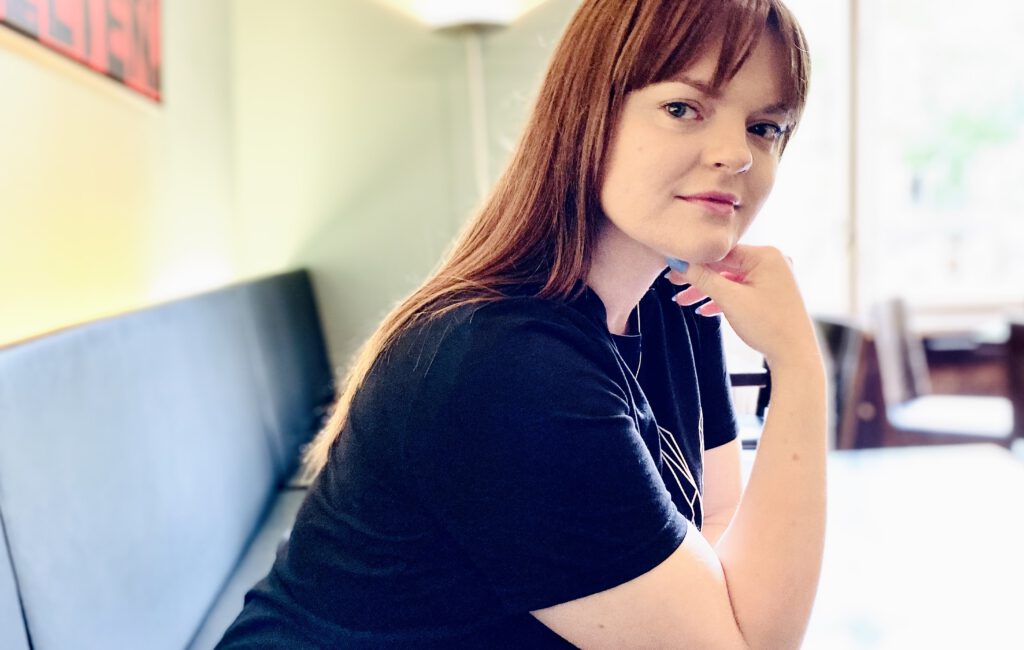 In the moment of the outbreak of war, it became clear to Tania Hubrii (27) who really is a friend.
It's hard to understand that nothing will ever be the same again. For example, I always dreamed of going to Spain – now I could, but I only wish to return to my grandmother. I am afraid to face reality and understand the full extent of the war. Only when I see it with my own eyes will it become real. You know, I see pictures of Kyiv in summer, the green trees, but I don't understand it – for me it's still winter there, as if time has stopped in Ukraine.
On February 24th, no happy children could be heard outside.
On February 24th, my mother turned 49. I was going to visit her in Vinnitsa, a three-hour train ride from Kyiv. I had canceled the rehearsal to celebrate her birthday with her. I had arranged a train ticket and a gift for her – an I-Phone, which is a small satisfaction for me because I work a lot and full time. So that morning I called her and instead of congratulating, I said, "Wake up, Mom, the war has started…"
Still, I stuck to my plan for the day. Early that morning, I went to the bus station, which is very close to my apartment. The driver said, "I'm not leaving for Vinnitsa for another three hours." So I thought it was a good idea to go home and clean the apartment a little more. I had no way of knowing when I would return because of the new circumstances. So I gave the bus driver my phone number and left my luggage and laptop with him…
You know, war is the moment when rules no longer apply.
When I returned to the bus stop a little later, there was no bus in sight. People had probably panicked and persuaded the bus driver to drive off. The bus was gone and with it my luggage, my laptop, everything! What did I do? I returned and cleaned the apartment – for the fourth time that morning. Even though I had already washed the dishes by hand… twice. Stupid. I just wanted my apartment to be clean. But it wasn't about cleaning – it was about not losing my mind. It was about the need to do something.
The day the war broke out, I cleaned my apartment four times. 
But it wasn't about cleaning - it was about not losing my mind.
My friend Diana and I decided to take shelter in a basement. We sat between puddles on the stone floor and talked and joked, just to make the situation bearable. It was said that the Russians would take Kiev in three days, so that's what we were waiting for. I was very nervous and could not sleep at all. The lack of sleep proved to be my biggest problem. I was so tired, and I was alternately looking at this one window and my cell phone, praying: "God, I know you exist. Please, I really want to stay alive and pursue my profession in my future."
I have four jobs – my story is representative of women who work full time to be successful at what they do and love. I don't have kids or free time; I work full time. I know what I plan to do professionally in the next two years. I had it all planned out, Kiev was my base, where I rented a nice two-bedroom apartment that was actually too much space for a single person. But for me, it wasn't about money….
The situation – waiting for something bad to happen – was driving me crazy.
At the shelter, I tried to persuade Diana to flee with me – unsuccessfully. The moment I walked alone to the train station, I was fully aware that I was leaving my friends, my apartment, my life. I had only one bag and nothing but the train ticket to my mother's house. This time I didn't have a plan, I just knew that somehow I had to reach the station. I was on my way without knowing where I was going, does that make sense? When I reached the station, I had no choice of destination – all trains were going to Lyiv. It was not a matter of tickets, but of pure survival.
You never forget the sound of sirens – because you understand that everything is changing now.
In Lviv I met a friend, Marina, with her daughter Nastja. There were no bombings there at that time, so Marina and I decided to stay and help as volunteers. Elderly people and people with children came and waited in a theater that had been converted into a shelter. It was so cold outside that people needed warm clothes. There were sleeping mats on the floor and everyone was waiting for buses to Poland. We helped them get on the buses and went to the store to buy food and water for them. After a few days, we had no choice but to leave for the border ourselves. We had heard that the Russians would soon bomb Lyiv as well.
When I saw volunteers giving toys to children, I began to cry.
On March 1st, we crossed the border into Poland. When I saw volunteers giving toys to children, I began to cry. I had never experienced anything like that. I was never in need of help, I could always help myself. We were led into a large reception hall with hundreds of others to rest. Marina and I sat down with a stranger from Zanzibar. We struck up a conversation; he is a medical student and was at university in Ukraine….
Suddenly I understood what was really happening, that this guy from Zanzibar and I were in the same situation. Don't get me wrong, but until then Zanzibar was far away and suddenly the guy from Zanzibar was like me: As I sat across from him and we discussed together what to do next, I really understood what it means to be a…ahhh…. I hate that word…phew, wait… what it means to be a refugee.
No home or chance to return, no plan for my life means: I'm a refugee.
---
Interview & Photo: Sandy Bossier-Steuerwald
Please follow and like us: