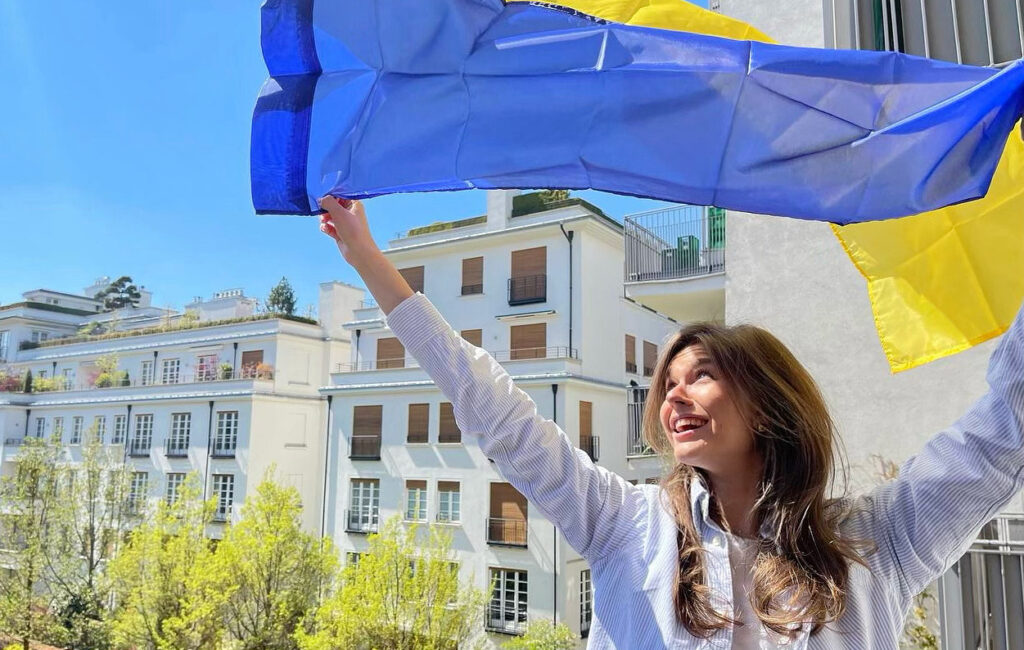 Anastasiia Kulykovska (29) wants a fulfilled life and a family in Ukraine, but war has separated her from her husband.
First and foremost, Alex is my best friend who knows everything about me. In second place, he is my husband. I used to cook for him every day, my favorite was to prepare him a nice breakfast. Alex loves "syrnyky", Ukrainian pancakes filled with cottage cheese, I love talking to him while having coffee – something I sorely miss, now. For Valentine's 2022, we went out to a new restaurant in Kyiv, with high level Libyan cuisine. We basically ordered everything that was on the menu taking more time than usual.
Then, within only four weeks, the world turned upside down.
I met Alex at my friend's wedding six years ago. We dated, fell in love and started to build a satisfying life in Kiev. We owned a flat, a car and had good jobs: Alex was a successful lawyer and I worked as an actress at the "Golden Gates" Theater. From 2017 to 2019 I got the opportunity to do my master's degree at a private university in Munich and we temporarily separated. While I was studying Ukrainian history and psychology for a teaching degree, I learned German. I was surprised how helpful the knowledge of a language is… In 2021 Alex proposed to me. He always wanted to do it in a very romantic way, he had even thought about the Eiffel Tower… But because of Corona, that wasn't possible. When I came home from work Saturday night, the 13th of February 2021, I wondered why he was wearing a formal shirt instead of sporty clothes. He looked at me conspiratorially and made me search the flat for a key and a matching safe. Inside I found a lot of little notes:
I read each one of "One hundred reasons why I love you!"
We got married in June 2021 in Kyiv. It wasn't a typical Ukrainian wedding – no big table overflowing with food, no emcee, no games, nothing…. due to Corona rules, we only had a small civil ceremony with my family and some close friends including a photo shoot. At least we were able to spend our honeymoon in the Dominican Republic because the infection rate there was low at the time. It was a wonderful holiday after all the work and exhaustion of Corona – in fact, maybe that is the last good memory I have so far.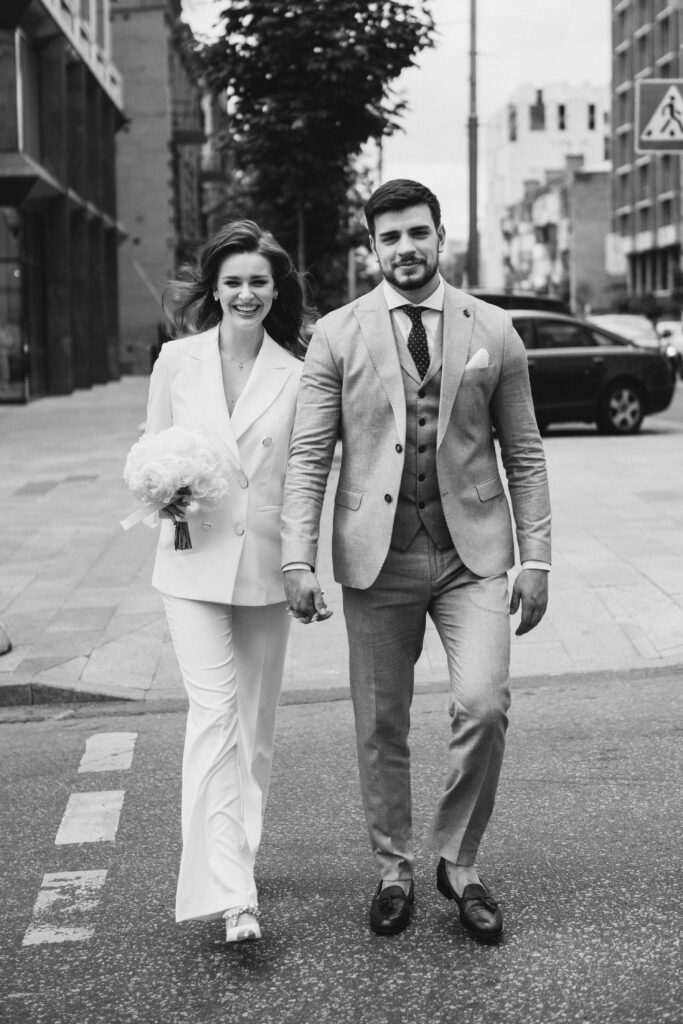 The morning the war broke out, several friends called from abroad and offered to take me out of Ukraine, but I didn't want to leave my husband behind. Five days later, a missile hit the TV station that was only 30 meters from my flat. I was at home changing clothes (as it is very dusty in the bunker) and the sound wave hurled me against the wall of my flat. Nevertheless, escape was not yet an option for me.
I can tell you, the first days of the war are the most terrible, because you are in shock. You just don't understand what is happening, because a few days ago you had a normal life. Suddenly you have no possibility to take a shower or wash your hands. You can't retire, you don't have a bed. You put on all the warm clothes you own and still are cold. There is no good food, you don't even have water. I had problems with my stomach because I didn't eat anything. You fall asleep and want to believe, "This is just a dream!" Then you wake up and realize, "It's not. It goes on and on!"
Day in, day out, always the same: more and more rockets, nothing good happens.
Every day we followed the political events and hoped for a quick end to the war. I was prepared to go without food for another ten days and not to shower as long as it would be over then. On the morning of the 21st day of the war we heard a terrible explosion. The Russians were destroying a nearby military installation. Suddenly I felt this emptiness inside me and, frightened, I had to admit to myself, "It's enough, I can't take any more." We understood that the end of the war was still to come, and I had no more strength.
My husband said: "Don't think about me, you have to think about yourself now."
Alex stayed at home in Kyiv, as did my mother and stepfather, my grandmother and uncle. In the meantime, he has separated from his own two brothers, who, like the rest of his family, live in Russia. Because of the tensions between our countries, there are countless such family tragedies, some of which started years ago and are now coming to a head in the war. My mother-in-law, for example, I have only seen once in my life – another reason why Alex and I didn't want a big wedding celebration…
Alex said to his brother in Moscow: "Don't you dare call me. Never ever again. Do you hear?!"
Of course, I would like to have children myself. My husband and I had talked about planning children last year and decided to focus on our careers and give it another year or two. The ideal situation for us would be to start a family in Ukraine, but now I don't feel psychologically able to have children at all.
To become a mother, you need a safe environment and a nice home that allows you to rest and relax. I admire women who get pregnant despite the war. For me, it's hard to imagine and I think that it isn't the right time for children again. Especially since we are physically separated without knowing how long this war will last and determine our lives. I am additionally afraid that they will take my husband to the military…
I miss Alex very much. We talk to each other every day by video phone, and yet I'm already noticing small changes: we're not the same as we were before the war. I have a life here in Munich, he has his life in Kiev, and with every day we change a little. It is enormously important to keep in touch, otherwise it could happen one day that our lives drift apart – and that is what I am most afraid of – that this brief moment of separation could go unnoticed.
---
Interview: Sandy Bossier-Steuerwald; Photo above: © Private & Wedding Photo: © Anna Gorbenko
Please follow and like us: