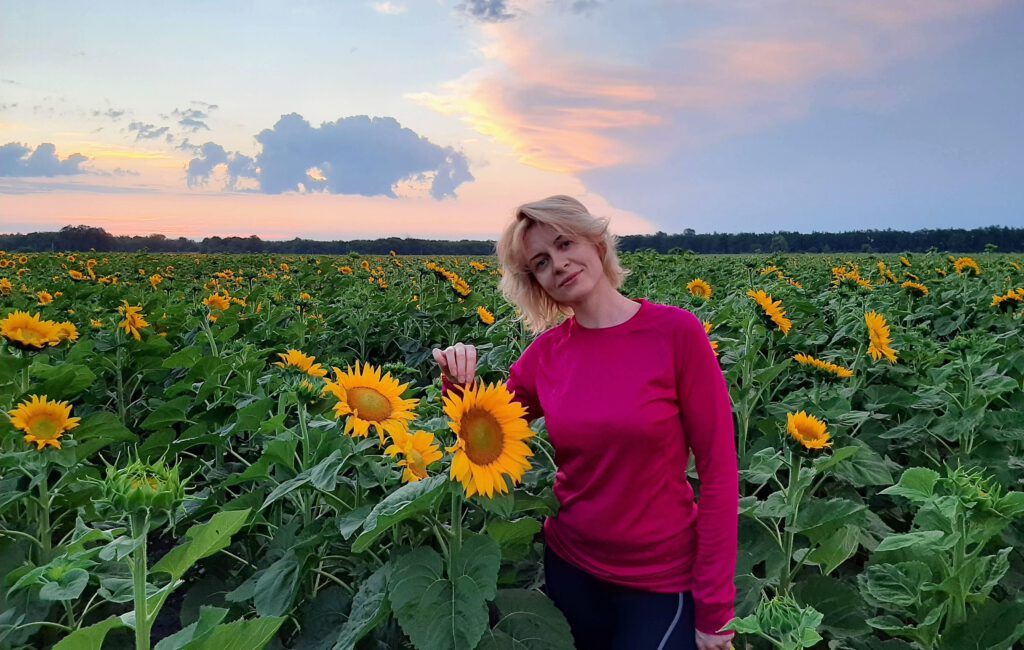 At the moment Eleonora Kyrylova (41) feels like a homeless. "Although I live with a great German family, I remain a guest. My son says, Mom, I don't want to go to any bed, I want to go to MY bed! But I can't fulfill this wish for him."
In the first days of the war, my husband Kostiantyn did not come home every evening. If he did, he stood in the doorway wearing a bulletproof vest and carrying a rifle. To prevent our sons from knocking it over or tripping over it, my husband deposited it in the safest place in our apartment: under the marital bed. Since the end of February, he suddenly belonged to the new, military checkpoints of our city. I never thought something like this would happen to us, but that's life.
We didn't have a gun at home, we used to be a normal family.
Cherkassy is a large city with 200,000 inhabitants, 180 km from Kiev. We live on the top, tenth floor of a fancy apartment building, not far from the river bank to the Dnipro. Last summer we bought SUPs and often paddled out with the board, went swimming or to the sauna. I love outdoor activities, still participated in the "Irdyn Trail Run" in October 2021. I worked as a civil servant with 40 hours plus per week, but in my leisure time my family and I were always on the road.
The war had started, the school was closed, but I had to go to the office.
There is no home office in the State Financial Service of Ukraine – neither at the time of the Corona crisis nor in the event of war. First, I was in shock and just left the children at home alone. Then I was so terribly worried that I then took them to the office: one day, two days… That was boring for the children and stressful for me, because obviously I could hardly take care of them.
"During the cold war, my father defended the western border 
for Russia as a Soviet soldier. 
Today, my husband defends the homeland 
against Russia as a Ukrainian soldier."
I was born in 1980 in Wismar, still East Germany at the time, where my father was stationed for five years as a Soviet soldier. When I was one year old, my parents moved with me to Ukraine. I have no concrete memory of that time, but my mother always raved about Germany, so maybe that's where my affinity comes from. In 1997 I met Kostiantyn in university. After his military service, he was offered a job by the Ukrainian State Security Service to deal with economic problems. So for the past 15 years, my husband worked for the military, not as a soldier, but in the fight against corruption in the country. It was not an easy job. He was on the road a lot and was rarely allowed to tell me where his assignment was. In the course of the Crimean crisis eight years ago – I had just had our second son Taras – Kostiantyn then had to spend five months at a time in this crisis region.
My husband was handed the rifle on February 24th, 2022.
The first night of the war we slept in a bunker near our house. It was within walking distance, but we had no protection on the way, not even a helmet. Moreover, the bunker was totally overcrowded. So we put our mattresses on the floor of a small, private cellar. Whenever the siren alarm started, we had to protect ourselves and the children. Especially at night it was difficult to wake them up because they were sleeping so deeply and the little one said to me: "Mom, I can't get up to go to the bunker, I'm so tired!"
I didn't want to be a victim like the people in Bucha and Mariupol. I have only one life and the most important in life are my children.
But I pushed and yelled at him: "I can't carry you, Taras! You weigh 30 kg and I have a backpack and the dog! Go faster! Faster! Faster!" My nervousness was palpable and persistent until even my husband said, "You're interrupting here, I can't do my job properly if I have to watch you. Go, get yourself to safety!" It sounds funny now, doesn't it? But this situation truly could not go on forever. After two weeks in the war, I decided it was enough for me, it was enough for the children. One night I took my backpack, two pairs of pants, our little dog and fled Ukraine with my sons.
My heart was broken and I cried, cried, cried…
When we left Ukraine on March 5, 2022, I initially wanted to stay in Poland or the Czech Republic. I thought the war would only last a few weeks – now I've been in Bavaria for four months. At first it was very weighted down, I didn't know anyone, just sat around, read news out of boredom and cried, cried, cried. Then I thought, "This can't go on like this, it's not good for my heart."
Meanwhile, both boys go to school and I attend a language course. In addition, I looked for a mini-job in the beverage market: "25.56 € please! Thank you, here's 12 cents back!" While trying to understand what the customers want, I make mistakes and can't yet fully express my feelings, but it doesn't bother me. My goal is to pass the language exam in December, because German will help me, both here and in perspective, in Ukraine.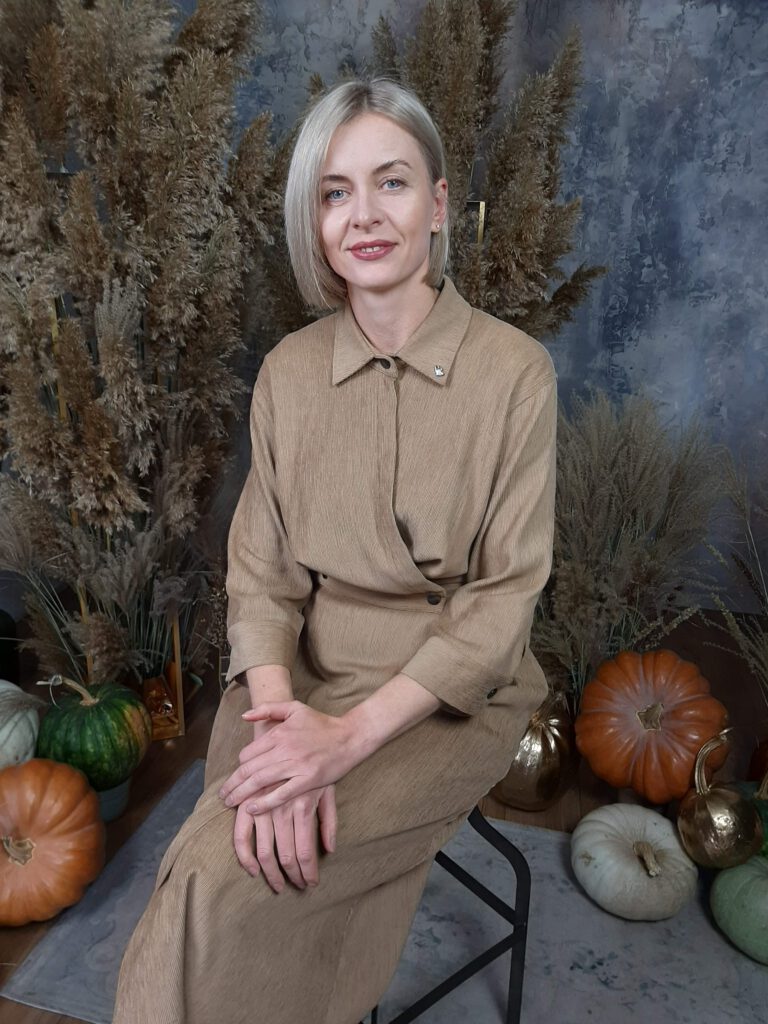 The 1st photo (left) shows what a beautiful woman I used to be in Ukraine. I made myself very pretty every day, took care of my hair, wore high heels and felt comfortable. The first time in Germany, on the other hand, I didn't care how I looked. I wore sweatpants and a black hoodie and I wanted nothing more than comfortable, warm clothes. Now I'm doing sports again, going for a ten-kilometer run once a week. I wish Kostiantyn would mail me this beige dress because it's my favorite.
"I have no idea when I will see my husband again,
but everything will come in its own time -
maybe just a little later than I thought."
The main thing is that we are alive. We are optimistic about our future. I take care of our children and he takes care of the homeland and one day we will be reunited. I think our sons are proud of their father, but they need him equally. They are boys and boys require masculine energy that I cannot give. I can cook, babysit, and care for our sons, but I can't replace their father for them.
Sons demand masculine energy that I can't give. I'm just a mom.
---
Interview Sandy Bossier-Steuerwald. Photo 1 & 3: private, Photo 2: © Vasylevska Tetiana
Please follow and like us: