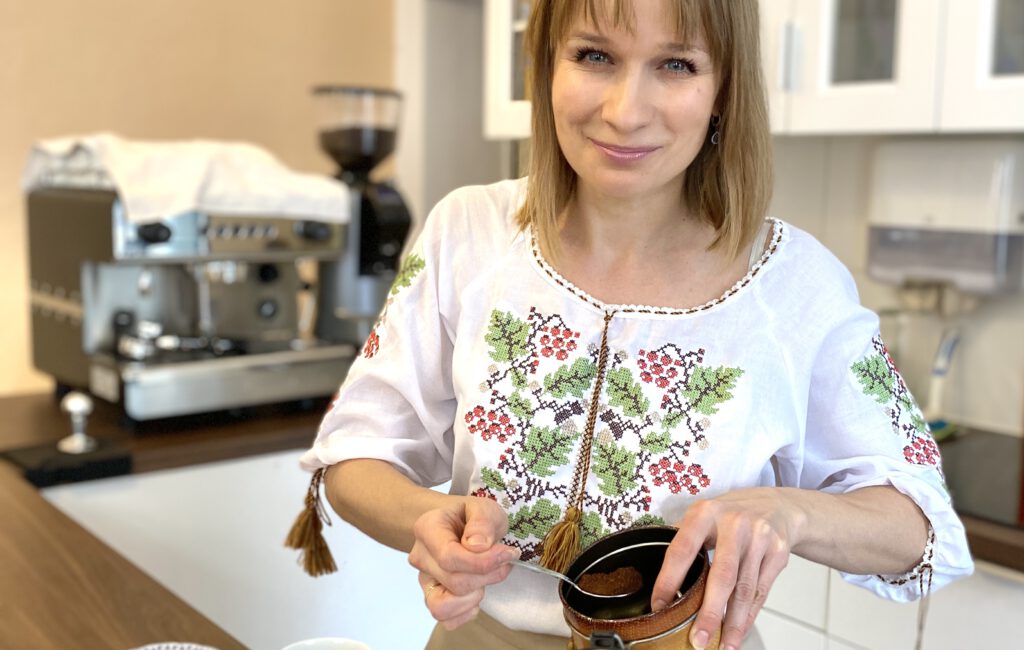 Nataliia Kovalenko (42) has been volunteering at the Berlin City Mission since her escape in March 2022, among other things as project coordinator of the "Café Ukraine at Alexanderplatz".
When Anastasiia and I left Mariopul on February 24th, 2022, we left without saying goodbye to Alexander, my husband and her father. On March 4th, we arrived in Germany and the following day the connection with him broke. Nobody could communicate, there was no phone, no internet, nothing. Basically, I am an optimistic person, and I forbade myself to panic. I prayed for Alexander and constantly imagined myself wrapping him with a protective cloak. I slept in his T-shirt, which smelled so good of him. I put all my strength into my thoughts and believed I could protect my husband that way.
We did not say goodbye.
Alexander and I met at university in 1998, we got married in 2002, our daughter Anastasiia was born in 2005. I am originally from Zaporizhzhya. In 2019 we moved to Mariopul because of work, my husband had taken a manager position in the logistics industry. I was a manager myself, a trainer of business processes and games. I was very independent, and I had this idea of opening my own school in the field of continuing education one day. Anastasiia lived with us, since she was only 14 and still in school. In her leisure time she played theater.
I had goals in life – Now everything is interrupted.
Although we worked a lot, we spent our weekends together as a family: we played tennis or went to the woods and the sea. We loved Mariopul's cultural offerings, there was so much to discover in it – it was a rapidly developing, beautiful city. You could walk through the center or along the shores of the Sea of Azov. I love the sea! Twice a year we went on vacation, in June `21 we were in Turkey, in December still in Egypt…
If we had hesitated for only one day, we would have been stuck in Mariopul.
The idea was to find shelter with my parents in Zaporizhzhya, normally about two and a half hours by car from Mariopul. However, there was panic in the streets and my Citroën had hardly any gas left. The gas stations only accepted card payments and I had no cash on me. So my daughter and I begged strangers – with success, we got some money, not much, but it was enough for 15 liters. Shortly before the city limits, the complete electronics of my car failed…
In the end, I also owe the successful escape from Mariopul to friends: they drove up in a car, I followed in a Citroën. Without electronics, I didn't know how fast we were going, how much gas was left, and the ventilation and heating had failed. We had fogged windows and had to drive with the windows open. It was so cold… I was totally tense. I drove with tunnel vision behind our friend, terrified that we would stall. But what blew me away the most was the dog: she just calmly took it all in stride. She didn't ask for anything, she lay quietly in the car, no one spoke to her. I was so concentrated, I couldn't speak.
My head was as empty as a desert. It was the hardest car ride of my life.
When we finally arrived at my parents' house, it was already dark, but comparatively quiet. My father had procured food supplies and prepared the beds in the basement. We stayed for a week. With each sound of the sirens, we went to the basement. It was a week of stillstand. My longtime friend Diana and her son Bogdan sought shelter with us at my parents. Diana had icons with her and placed the Orthodox holy images in a semicircle around her. It was a strange state. The television was on all the time and showed only horrible images. It was a repugnant state, a soft, helpless state. You're incapacitated, you feel like you're in jelly.
Our neighbors would dig us out if we spilled.
Then evacuation trains from Zaporizhzhya started to run. The thought of traveling across Ukraine for 24 hours was frightening, but even greater was the fear for our children. So one morning I woke up and resolutely said, "We are leaving now!" The dog stayed with my parents, who would never have fled themselves, a categorical, "No!" My girlfriend and I decided to take the train, we just wanted to stay together to support each other. The destination didn't matter because I had never been to Europe before.
In the end, there were eleven of us in a four-person compartment of the evacuation train.
When the four of us arrived at the station, there was complete chaos. People were jostling, there were not enough seats on the train. They were banging on the doors in panic, shouting, scolding, "Open the compartment!" Then there were eleven of us in a four-person compartment and my friend's daughter was crying, "I want to get out of here!" When the train finally started rolling, everyone calmed down… People were lying in the corridor with small children, most of them were women with children. We arrived in Lviv at about 3:30 p.m. the following day. There we waited eight hours for the next train to reach the Polish border after 14 more hours of travel… When we knew we were safe, I literally saw a load fall from my children's hearts. They could suddenly smile again.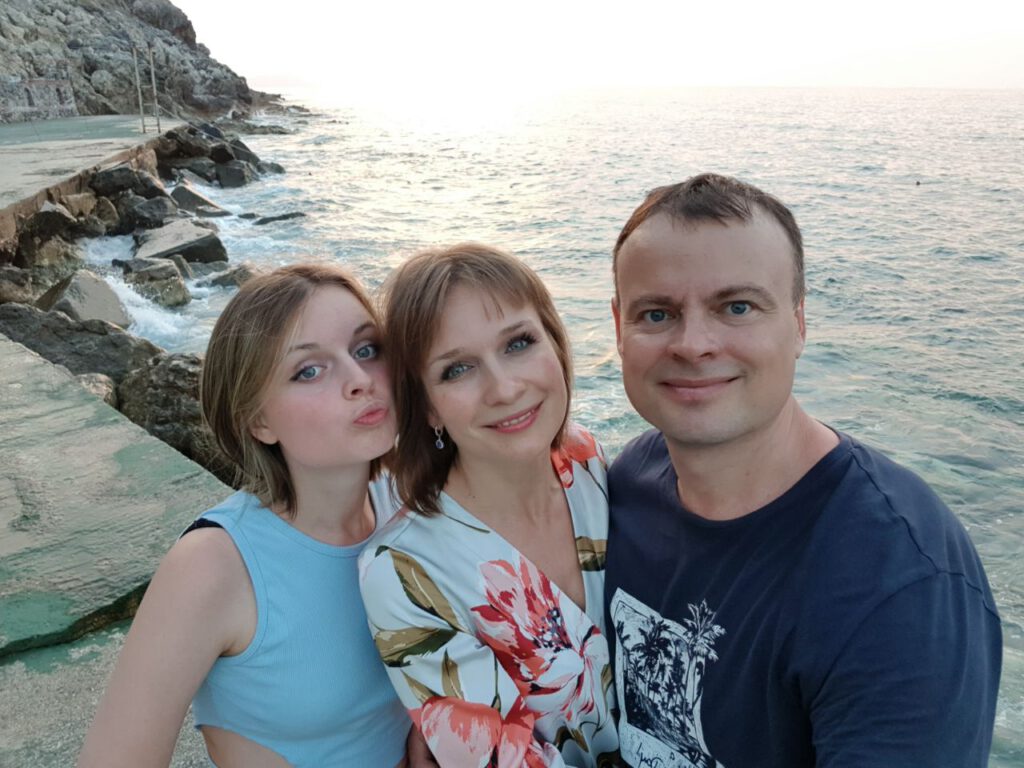 Now, I understand
It doesn't matter where you live
The most important thing is
To be in a safe place.
After ten days of uncertainty, my husband was able to reach me by phone. It was March 15th – our "anniversary". Alexander had left Mariopul in his car, which was shattered by gunfire but still running. He had taken other people with him, but I don't know how they got out – he doesn't want to talk about it, not to anyone, not even me. We have met twice since the war broke out in Lutz/ northwestern Ukraine, it is peaceful there and Alexander managed somehow to find work.
My husband still smells familiar – like home and Ukraine. The most difficult thing about our meetings is to understand this peculiar situation. The brain plays a trick on you: at that moment of being together, it feels like everything is fine, but it's a fallacy, because we do have to separate again. It's a beautiful story, there's just no happy ending yet.
---
Nataliia Kovalenko (42) has been volunteering at the Berliner Stadtmission since March 2022. She is involved in various areas for Ukrainian refugees and has been the project coordinator of the "Café Ukraine am Alexanderplatz" since April 2022, which has now held over 40 events. In addition, she is involved as a speaker and in various workshops and has been involved in several projects in the past year, e.g. Phineo Startups, GUTEmission.
Daily updates on Berlin's "Café Ukraine" are available on Instagram here.
---
Interview & blog photo : © Sandy Bossier-Steuerwald; photo below: © private
Please follow and like us: